(Herndon & Fowler)
2021 Herndon Ave.
Clovis, CA 93611
Office Hours
Office hours
Monday
9:00am - 7:00pm
Last walk-in 6:30pm
Tuesday
9:00am - 7:00pm
Last walk-in 6:30pm
Wednesday
9:00am - 7:00pm
Last walk-in 6:30pm
Thursday
9:00am - 7:00pm
Last walk-in 6:30pm
Friday
9:00am - 7:00pm
Last walk-in 6:30pm
Saturday
9:00am - 7:00pm
Last walk-in 6:30pm
Sunday
9:00am - 7:00pm
Last walk-in 6:30pm
(Milburn & Herndon)
6643 N. Milburn Ave.
Fresno, CA 93722
Office Hours
Office hours
Monday
9:00am - 7:00pm
Last walk-in 6:30pm
Tuesday
9:00am - 7:00pm
Last walk-in 6:30pm
Wednesday
9:00am - 7:00pm
Last walk-in 6:30pm
Thursday
9:00am - 7:00pm
Last walk-in 6:30pm
Friday
9:00am - 7:00pm
Last walk-in 6:30pm
Saturday
9:00am - 7:00pm
Last walk-in 6:30pm
Sunday
9:00am - 7:00pm
Last walk-in 6:30pm
(Floral near Highway 99)
3000 Floral Ave.
Selma, CA 93662
Office Hours
Office hours:
Monday
9:00am - 6:00pm
Last walk-in 5:30pm
Tuesday
9:00am - 6:00pm
Last walk-in 5:30pm
Wednesday
9:00am - 6:00pm
Last walk-in 5:30pm
Thursday
9:00am - 6:00pm
Last walk-in 5:30pm
Friday
9:00am - 6:00pm
Last walk-in 5:30pm
Saturday
9:00am - 6:00pm
Last walk-in 5:30pm
Sunday
CLOSED
Closed for lunch from 1:00pm - 2:00pm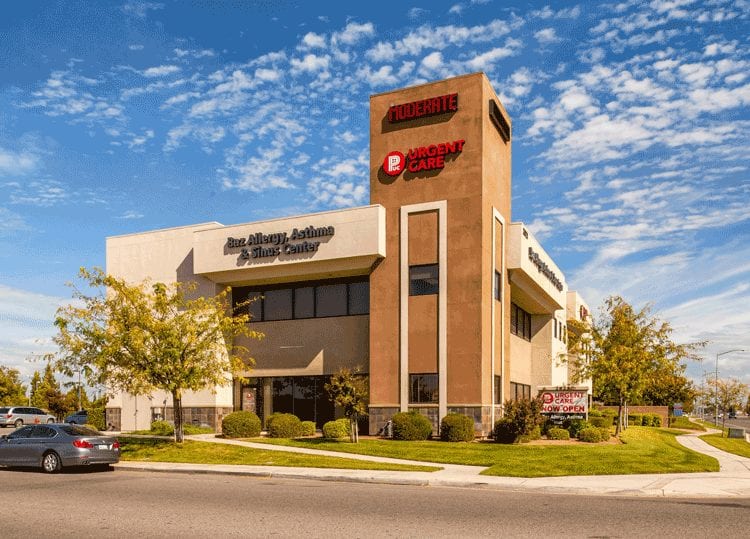 Premium Urgent Care – 2021 Herndon Ave. Clovis, CA
Urgent Care in Fresno, Clovis, Turlock and Selma

Premium Urgent Care strives to serve the Fresno, Clovis, Selma and surrounding communities with quality, personal, affordable, and convenient urgent care services.  These essential core values form the foundation of our relationships with patients, customers, investors, partners, and one another.  We have extraordinarily high-performance standards that serve as critical guides for making important clinical and business decisions.  The expression of our standards is evident in our behavior, our attitude, and our approach to our daily work.  
We have the expertise to perform minor procedures such as suturing lacerations, incision, and drainage of abscess formations. We are skilled at treating upper respiratory infections, ear infections, sinus infections, minor abdominal pain, urinary tract infections, acute asthma attacks, low back pain, and minor extremity/joint sprains/strains.
Urgent Care
Life can be an adventure.
Fun times with family and friends at sporting events, weddings and fires on the beach at night.
A bump, scrape or other possibly more serious injury or an unexpected illness can take you out of this fun quickly and you may require an urgent care near me.
Premium Urgent Care offers treatment of a number of conditions to the people of Fresno, Clovis and the surrounding areas to provide help when it's needed most. Our company is passionate about our core values of being affordable, offering excellent service and providing care that is both personal and convenient.
This passion can be seen in every aspect of what we do, including our relationships with our patients, clients and investors. We set high standards for our company that help us to make the right decisions, both clinically and professionally as a business.
Our commitment to providing great customer care has given us a reputation for being a great resource in our areas of operation. Many of the people in our areas of operation have decided to skip the major hospital waiting rooms and rushed care for our personal, fast and affordable services. People and their immediate needs are at the heart of what we do, and we feel that during such potential stressful times our customers should have the best experience possible.
From when you enter our doors, to your treatment and the follow-up afterwards our intention is to help you and educate you in a way that doesn't just address your current needs but also with an eye toward preventative health as well.
Urgent care Fresno CA
When dealing with an injury or on-set of illness, responding to them in a timely manner is very important.
An illness such as an upper respiratory infection for example (which many people suffer through needlessly) can, if not treated properly and quickly, lead to serious pneumonia and other illnesses.
Likewise, a serious laceration when not treated professionally can become infected and turn bad rapidly.
Having one of our highly skilled and friendly doctors conduct an examination and run a few tests can go a long way toward not only getting you better quickly, but possibly avoid something else that may be worse.
A list of the conditions we treat include the following:
Injury
Burns (minor)
Stitches
Open Wounds
Sports Induced Injury
Minor Bone Breaks
Animal Bites
Insect Bites
Fingernail Injuries
Toenail Injuries
Ingrown Toenails
Scrapes
Back pain
Athletic Injuries
Sprains, Strains
Cuts
Puncture Wounds
Neck Injuries and Pain
Abscess Treatment
Illnesses
Respiratory Problems
Sinus Infections
Ear Infections
Skin Rash
Irritated Skin
Nausea
Migraines and Headaches
Severe Diarrhea
Constipation
Heartburn
Flu and Cold
Dehydration
Minor Stomach Problems
Minor Eye Irritation
Severe nose bleed
Urinary Tract Issues
Female Health Issues
Flu
Pink Eye
STD's
Poison Ivy/Poison Oak
Other Services
DOT Physicals
Sports Physicals
Work Related Physicals
Vaccinations
Annual Check Ups
Eye and Ear Exams
Hospital Emergency Room Treatment
While Premium Urgent Care can help treat a number of sprains, lacerations, illnesses and other issues, more serious problems that would necessitate a trip to a hospital emergency room include the following:
Suspect a heart attack and have chest pain
Unresolved breathing complications
Sudden Fainting
Dizziness that does not go away
Extreme burn
Unable to move or speak suddenly
Fast onset of confusion
Continued bleeding or deep flesh wound
Blood coming up when coughing
Fever that remains high after taking medication
Exposure to toxic inhalants or smoke
Sharp abdomen pain
Severe broken bone resulting in loss of movement
Intense headache combined with stiff neck and headache
Severe allergic reaction that block air passage
Seizures
Severe depression with suicidal thoughts
Poison consumption
Overdose due to drug or alcohol
If you or someone you know is experiencing any of these symptoms, call 911 immediately! Your safety and health are our #1 priority!
A Total Health Clinic in Fresno CA
Whether you choose us or another provider for your urgent care needs, Premium Urgent Care wants to help you to have the best care possible: staying healthy in the first place!
Here are a few things you can do to keep you and your family healthy:
Stay Hydrated– Americans in our fast paced lifestyles rarely drink enough water.  Staying hydrated, especially during the summer months will keep your body healthy and avoid serious health risks.  Do not wait until it is too late, if you are experiencing blurred vision, rapid heart rate or extreme mouth dryness go to a cool place and drink some water.  Visit your local urgent care hospital for treatment.
Stay Active– It is a known fact that exercise helps people stay healthy by reducing risk of some diseases and helping to lose weight.  With today's conveniences and busy schedules it can be difficult to find the time to exercise.  Making the daily choice to exercise and stay active improves your health which can reduce doctor and hospital visits. The scientific principle that an object in motion tends to stay in motion is true with people as much as anything else!
Get Your Flu Shot– Getting your flu shot as early as September or October can go a long way towards avoiding this serious illness. Children under the age of 10, seniors and people with compromised immune systems are at a particularly high risk for influenza, and should schedule an annual, repeating Flu vaccination with their primary care physician. We offer Flu vaccinations as one of the many services we provide here at Premium Urgent Care.
Drink Coffee– Bet you weren't expecting this one! The effects of coffee on human physiology are profound. Caffeine (in moderate doses) can stimulate your nervous system and studies have shown that it may lower you risk of Diabetes, Parkinson's Disease, chronic headaches, emotional problems and more. It also contains magnesium, which promotes good blood sugar health (good for diabetics) and is naturally calorie free as long as you avoid cream, sugar and other calorie coffee additives like flavored syrups.
Get Better Sleep– Are you a hot sleeper? Many people don't get enough sleep in our fast paced world, and the sleep they do get isn't quality rest. One of the reasons for this is body temperature. When your body temperature is too high while you sleep your body has trouble regulating cortisol, melatonin and growth hormone levels. These chemicals prevent aging, help with your mood and cravings and your overall health. Taking measures to be cooler at night will get you sleeping better than ever!
Affordable Urgent Care in Fresno California
In addition to being an affordable urgent care service for people in Fresno and the surrounding areas, we also work with and accepts a number of health insurance providers including:
Aetna Health Insurance
Blue Cross and Blue Shield
Cigna Health Care
First Choice Medicare Advantage
Health Net
Medicare
SANTE
Affordable Care Act
EHS Medical – We will continue to see existing patients until 01/01/2018
A Local Urgent Care Company with a Difference
Premium Urgent Care is a local company with a passion for people. Part of that passion is educating people on making good choices.
Did you know urgent facilities are much more affordable on average than typical emergency room visits? One of the reasons for that is simple: higher overhead. Paying utilities, upkeep of high tech equipment, labor costs for a staff of hundreds if not thousands of people and the costs of the treatments themselves add up.
With a much smaller staff, facility and other factors an urgent care facility like ours can charge significantly less for treating many of the same issues. Consequently, co-pays and insurance claims tend to be a great deal less than those for hospital service, making urgent care more affordable for you.
Additionally, many people have come to prefer urgent care facilities over hospital emergency rooms for treatment.
Beyond being a more affordable option, the care received at an urgent care facility is typically a more personal experience according to many of our patients. With the mention once more of a massive staff that are constantly in a hurry, most hospitals simply don't have the time to focus too much on creating an atmosphere of care and a personal touch when it comes to treatment.
With a smaller staff and workload, our nurses and physicians take time to listen to and answer questions. This gives us an advantage in having the opportunity and privilege to really get to know our patients and make their experience in a stressful situation as pleasant as possible.
It is our hope that when you leave one of our facilities that you will feel like we really took the time and effort to treat you not just as a patient number in a waiting room or a chart on the outside of an emergency room unit. Our hope is that after being treated by the professional, personable and friendly staff at Premium Urgent Care you will feel entirely satisfied by your experience with us and be on the road to a speedy recovery.
Premium Urgent Care locations to serve you
Premium Urgent Care
6643 N. Milburn Ave.
Fresno, CA 93722
559-412-2535
Premium Urgent Care
7471 N. Fresno St
Fresno, CA 93720
559-559-981-5566
Premium Urgent Care
2021 Herndon Ave,
Suite 101
Clovis, CA 93611
559-797-4315
Premium Urgent Care
3000 Floral Ave.
Selma, CA 93662
559-318-9240
Premium Urgent Care
1851 Lander Ave
Turlock, CA 95380
209-634-4003